Solutions → Energy Data Management
Efficient meter data management services
The quality of meter data and its timely delivery are essential for the whole energy market. The quality and reliability of our service is ensured by our energy market experts and our 24/7 automated software platform.
Meter data management services
Meter data management services ensure the quality of metering data for different stakeholders. There are already over 900 000 point of deliveries (PODs) in our meter data quality services.
Meter data quality services
Our meter data quality service corrects and completes uncertain or missing metering data and ensures the correctness and quality of metering data for different stakeholders.
Our service includes validation of metering data for electricity, district heating, gas, and water.
Our service can be integrated to your existing processes and is expandable through add-on services like reporting, analytics, and expert services.
Meter data management for industrial customers
We offer comprehensive service from meter readings to meter data management and balance settlement, as well as related energy management processes.
Our service monitors the reliability of data used for balance calculations and the validity of calculation results. Reporting and analytics are also part of our energy data management services.
Project deliveries and market changes
The changing energy market generates new requirements for managing meter data. We help our customers in various market-related change projects.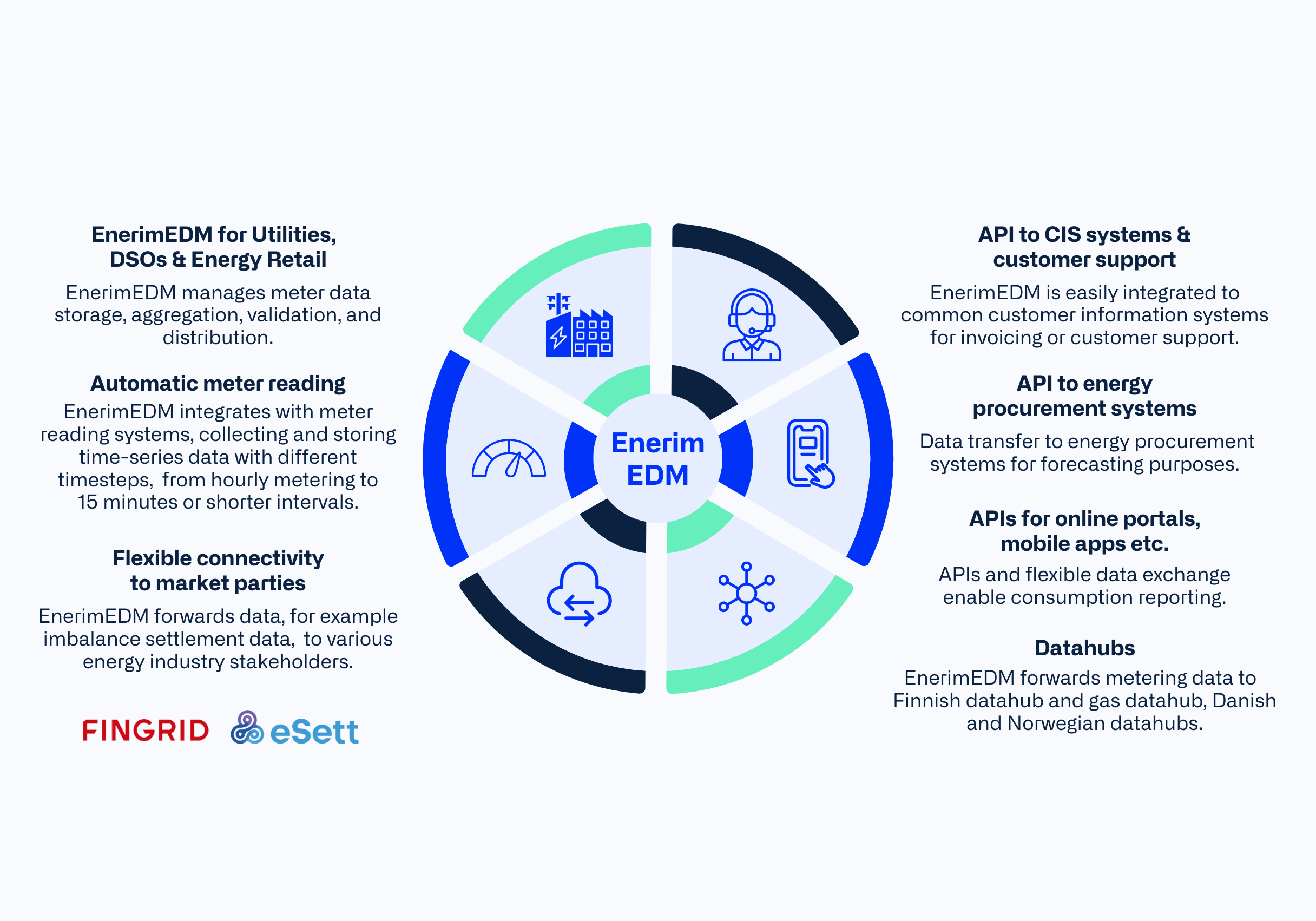 EnerimEDM manages large amounts of data
With EnerimEDM you can efficiently manage meter data storage, aggregation, validation, and distribution. The system covers the operative processes for electricity sales and distribution, heating and cooling, water and sewage and gas.
Datahub services support market parties with datahub-related obligations. There are already over 900 000 PODs in our datahub services for grid operators and over 700 000 PODs in our datahub services for suppliers.
Datahub services for grid operators
For grid operators we offer services for controlling meter data management processes (DH-200) and balance settlement processes (DH-500).
The service includes the maintenance of our customers' structural data in datahub. We also perform the definitions and monitoring for the necessary calculations for sub metering et cetera in our metering data management system.
Show more
Datahub services for suppliers
Retailers must ensure that invoicing data and balance settlement data are equal. Our meter data management service takes care of this on behalf of the supplier.
We receive the metering data from datahub or other operators for the deliveries under the retailer's supply. Received data is compared with the official balance settlement data to verify the validity of the metering data.
Show more